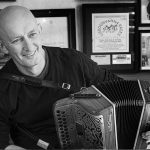 Click on photo to download a printable version.
John is available by arrangement, solo, or in a duo or trio.
Brief Blurb ~ John Redmond / Button Accordion, Concertina

John Redmond is an all-Ireland winner on button accordion, from County Wexford. His exquisite playing has graced concerts and festivals throughout the US. A longtime resident of New York, he is one of the city's most respected Irish musicians and teachers, an integral part of the best sessions. He has performed for the Mayor of New York City and for the UN. John's latest CD, Box Sets, a luminous collection of his own compositions, is a testament to the places that have shaped his life and his art, and to his incredible skill as composer and musician.
"This is a lovely album. Beautifully produced and featuring the very clean, bright style of John Redmond. Make no mistake, this guy can play the box. "Box Sets" is a stunner and a keeper!"  Bill Margeson, LiveIreland.com, Chicago Irish American News
"His impeccable playing is only matched by his wonderful compositions. A remarkable feat." Kevin Burke 
"Box Sets is full of simply beautiful music – a stunning and evocative love letter to John's friends and family, and to the world around him." Daniel Neely, The Irish Echo